For the longest time, the best graphics card could be found squarely in the 'green' (read: Nvidia) department. But in 2020, AMD has a great deal to offer. With the release of AMD's Big Navi RX 6000 cards going head to head with the Nvidia RTX 3080 and RTX 3090, the Nvidia vs. AMD battle no longer has a clear-cut winner. AMD's taking the battle to Nvidia like it hasn't done in a very long time.
On the budget end, there are plenty of relatively inexpensive graphics cards available in 2021 to keep your gaming setup ticking over nicely. Whether you want to keep it truly cheap and cheerful and get something like an Nvidia GTX 1050 for the sole purpose of playing League of Legends or CS:GO, or spend a little extra on an Nvidia GTX 1660 Ti to be hitting 60fps at 1080p in Call of Duty: Black Ops – Cold War, there are some great budget graphics card options at the moment.
If you have no reservations about money, already rocking the best gaming CPU in your rig, there are treats indeed for you. The RTX 3090 is the fastest graphics card in the world right now, rocking a four-figure price tag, and there's also the Nvidia RTX 3080 ready to take you into the next generation, with ray-tracing and DLSS capabilities combined with stellar 4K gaming performance for just under $700/£700. And with AMD threatening to compete at high-end again with its Radeon RX 6000 series cards, you've got a lot of options to mull over when it comes to upgrading your GPU.
Here are the best graphics cards for gaming:
Check Prices
nvidia geforce rtx 3090
The most powerful graphics card is the Nvidia GeForce RTX 3090.
Nvidia's flagship Ampere graphics card is the most powerful consumer GPU in the world right now and is effectively the replacement for their Titan series cards. You only really need this card for content creation or if you have deep pockets and just want the pure bragging rights, with only a small performance increase seen in gaming over the RTX 3080.
The 24GB of GDDR6X VRAM is more than double the 10GB we see in the RTX 3080, and if you are one of the few to own an 8K monitor then it may be the GPU to keep in mind. If you're going for this monster of a card, you'll want to pair it with one of the best CPUs to avoid any potential bottleneck.
What we like…

The most powerful consumer GPU, period

8K gaming is finally possible

Great performance in content creation software
| | |
| --- | --- |
| | Nvidia GeForce RTX 3090 specs |
| GPU | GA102 |
| CUDA cores | 10,496 |
| VRAM | 24GB GDDR6X |
| Memory bus | 384-bit |
Check Prices
nvidia geforce rtx 3080
The best graphics card for gaming is the Nvidia GeForce RTX 3080.
Sure, the RTX 3090 might be the most powerful GPU you can buy, but if you're looking for gaming chops then anything more than 3080 is frankly unnecessary – just pairing it with the best SSD for gaming will have you first in the lobby and seeing so many pixels, you'll hit shots you couldn't before.
The RTX 3080 is Nvidia's second most powerful Ampere card, which will cost you around $700 / £650, and finally means 4K PC gaming is somewhat affordable when previously you'd need to buy an RTX 2080 Ti to play the latest titles in 4K, which cost around $1200. Impressively, the 3080 does this while still having major performance improvements over the previous 4K card from Nvidia. It's also a perfect match if you want 144Hz at 1440p too.
What we like…

4K capabilities for under $700

Cheaper than the graphics card it replaces

Low temperatures
| | |
| --- | --- |
| | Nvidia GeForce RTX 3080 specs |
| GPU | GA102 |
| CUDA cores | 8,704 |
| VRAM | 10GB GDDR6X |
| Memory bus | 320-bit |
Check Prices
amd radeon rx 5600 xt
The best 1440p graphics card is the AMD Radeon RX 5600 XT.
This previous generation 7nm GPU from AMD for around $300 / £300 will keep you more than satisfied playing at 1440p, capable of hitting 60fps in pretty much any game and costing less than Nvidia's RTX 2060. It offers a sublime mix of rasterised performance and affordable graphical clout, and that RDNA architecture on 7nm pays off in the power department, too, requiring just 150W. In fact, it's still the graphics card we recommend when building the best gaming PC for QHD resolution.
The mix-up in RX 5600 XT branding is likely in part due to its colossally confusing launch. An updated vBIOS moments prior sent the RX 5600 XT's performance skyrocketing, and only a handful of AIBs appeared to get the memo. All you need to know is to make sure, whichever card you buy, that it's capable of 1,750MHz boost clock and 14Gbps memory – from then on you're sitting pretty at under $300.
What we like…

Best option for 1440p

Low power consumption

The price
| | |
| --- | --- |
| | AMD Radeon RX 5600 XT specs |
| GPU | Navi 10 XLE |
| RDNA cores | 2,304 |
| VRAM | 6GB GDDR6 |
| Memory bus | 256-bit |
Check Prices
nvidia geforce rtx 3060 ti
The best graphics card for the money is the Nvidia GeForce RTX 3060 Ti.
Nvidia has shaken up the game with the RTX 3060 Ti, and it comes way under the $500 bracket here at a retail price of $399/£399. It will blast through pretty much any title you can throw at it in 1440p, and will cope with 4K gaming if you're willing to turn the graphical options down a little in the latest titles like Watch Dogs: Legion.
The impressive thing is that we're getting dangerously close to high-end GPU territory here, with performance rivalling Nvidia's previous generation second-best GPU, the RTX 2080 Super which had a retail price of $699. It's been really well received by critics after it's recent launch, too.
What we like…

Solid, high refresh rate 1440p gaming with 4K capabilities too

Incredible bang for your buck over the previous generation

Quiet and cool under load
| | |
| --- | --- |
| | Nvidia GeForce RTX 3060 Ti specs |
| GPU | GA104 |
| CUDA cores | 4,864 |
| VRAM | 8GB GDDR6 |
| Memory bus | 256-bit |
Check Prices
nvidia geforce gtx 1660 super
The best graphics card for 1080p gaming is the Nvidia GeForce GTX 1660 Super.
If you have a 1080p monitor but still want to run the best PC games with most of the settings set to high, possible then the GTX 1660 Super fits the bill perfectly.
For under $250 you're getting a card that delivers performance similar to the GTX 1070. It's a great-value GPU, and its existence is the main reason AMD's RX 5500 XT isn't on the list since the GTX 1660 Super performs better for only a small extra cost. Also just look at how cute and teeny it is. Adorable.
What we like…

Great value

Solid 1080p performance

Cool temperatures
| | |
| --- | --- |
| | Nvidia GeForce GTX 1660 Super specs |
| GPU | TU116 |
| CUDA cores | 1,408 |
| VRAM | 6GB GDDR6 |
| Memory bus | 192-bit |
Check Prices
nvidia geforce gtx 1050 ti
The best cheap graphics card is the Nvidia GeForce GTX 1050 Ti.
Yep, that's a four-year-old pascal card on our list, but hear us out. If you've got a 1080p display and just want to run most recent games at a reasonable framerate and you don't care about having graphics options anywhere close to maximum, then this graphics card still has lots of life left, and costs less than $150 / £150. It's the perfect card for a bargain basement gaming PC build. And when it comes to titles that are a few years old such as GTA 5 or Fortnite, you'll have no trouble running them at 60fps and 1080p, even without turning everything down to low.
In newer titles there's still success, with Watch Dogs: Legion playable at 30fps on medium settings, with the game looking similar to how it does on the PS4 and Xbox One. The 4GB of VRAM shouldn't be a problem, considering that you'll only be playing at 1080p with this card anyway.
What we like…

Low-low price

Still puts up a fight

Lower power consumption
| | |
| --- | --- |
| | Nvidia GeForce GTX 1050 Ti specs |
| GPU | GP107 |
| CUDA cores | 768 |
| VRAM | 4GB GDDR5 |
| Memory bus | 128-bit |
Check Prices
AMD Radeon RX 5700
The best graphics card for the tech-savvy is the AMD RX 5700.
Closely behind the 5700 XT, because of the XT's price cut, is this straight RX 5700. It's running the same Navi GPU as the XT card, but has been hobbled in terms of clock speed to ensure it remains behind its stronger sibling.
However, this card might be a better option than the 5700 XT if you're happy with a little behind-the-scenes tweaking to overclock and undervolt your GPU. With your GPU unlocked and some carefully fiddling with the frequencies, the RX 5700 can reach the performance of the RX 5700 XT. Crackin'.
What we like…

 Same Navi GPU as the XT

 Often matches RTX 2060 Super

 …and the RX 5700 XT
| | |
| --- | --- |
| | AMD RX 5700 specs |
| GPU | Navi 10 |
| RDNA cores | 2,304 |
| VRAM | 8GB GDDR6 |
| Memory bus | 256-bit |
Read the PCGamesN AMD RX 5700 review for our full verdict and score.
how to install a graphics card
Here's our handy video guide on how to plug a GPU in to your PC. PCGamesN also has a full guide on how to install your new graphics card.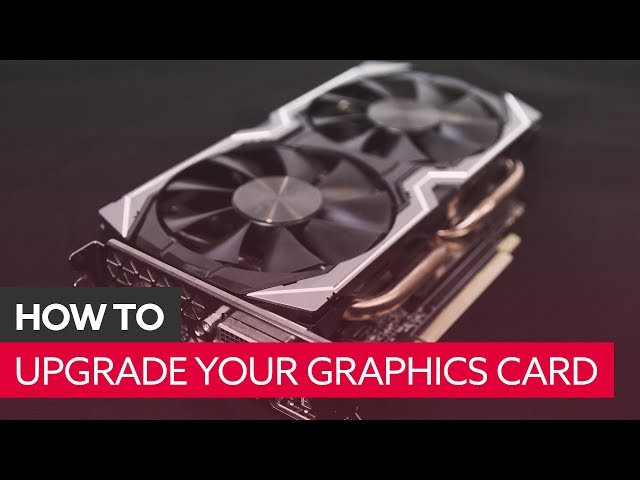 Graphics card buying guide
Not everyone is lucky enough to be totally weapons free on budget when it comes to the most important component in a gaming PC: the graphics card – after all, you still need to set some money aside for the best CPU if you want to avoid bottlenecking. That's why picking the best graphics card for your needs is so important – if you can't afford an RTX 3080 you still need to make sure your money is well-placed in hardware that is going to deliver the best performance for your given budget.
While the RTX 3080 is the boss of 4K gaming, the RTX 3060 Ti still offers fantastic frame rates even when the settings are cranked up to the max in 1440p. You won't be left high and dry with either Nvidia or AMD in your system.
Looking a little further up the price range and the RTX 3090 is the performance king.
Graphics card price list